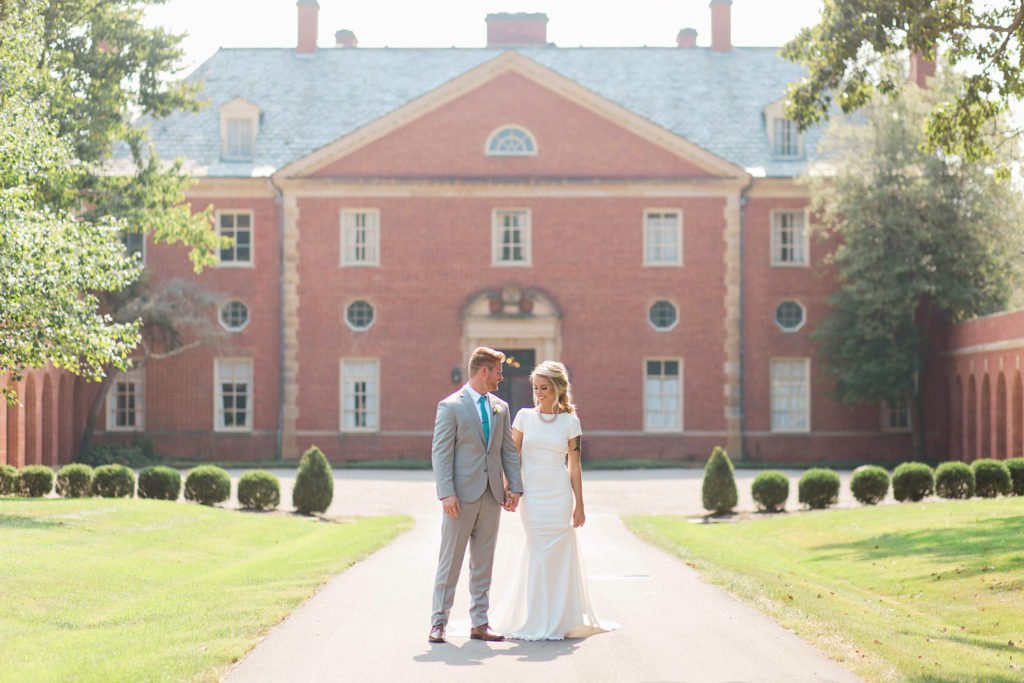 Peterloon's eternal elegance, natural outdoor beauty and opulent interiors provides the picturesque backdrop for your Wedding Day
When constructed in 1928, every detail of Peterloon was carefully chosen for its beauty and historical relevance from European castles and estates. As you tour the home you will find architectural and design treasures, such as the 400-year-old oak parquet de Versailles flooring in the living and dining rooms, and the 16th century Indigo Jones mantelpiece in the front hall. Your guests will marvel at the hand-carved Slavonian oak paneling from the mid-1600s. The masterful artistry found in each facet of Peterloon's design makes the estate a magnificent and memorable venue for your wedding.
The incredible splendor of the home is surrounded by gorgeous exteriors. The outside is adorned with numerous animal carvings and statues, from snails and dolphins to a robust rooster and a basket full of adorable puppies. The expansive two-tiered backyard is ideal for tented wedding receptions. Strolling through a tunnel of natural foliage, you will find yourself entering an exquisite hidden garden that is picturesque for an intimate wedding ceremony. The family's swimming pool was built to double as a fountain and is a spectacular backdrop for a romantic sunset photo.
The back lawn of the Peterloon estate is surrounded by a breathtaking view of the stunning property and has an expansive 55'x100' hardscape terrace fashioned with attractive pavers that blends seamlessly with the historic appearance of the estate, complete with a walkway leading from the house and an adjacent catering space. The terrace was strategically designed to accommodate multiple sized tents. Whether you are planning a small and intimate outdoor wedding or a large celebration, Peterloon can meet your needs. This area is not only perfect for tented receptions but can also be used for open air events and outdoor activities.
Catering
Kitchen facilities are available for use by approved caterers in keeping with the Peterloon catering guidelines. 5ft round tables and white garden chairs for 100 guests can be provided for indoor use. All linens, china, flatware, glassware, etc…would be rented from your caterer. Any beer, wine and liquor served on the estate must be purchased from Peterloon.
Parking
Peterloon's front courtyard provides self-service parking for up to 25 cars and valet parking for up to 40 cars. Additional parking for up to 120 cars is available at the carriage house, approximately 250 yards from the main estate. Cost for valet parking and/or shuttle service from the carriage house to the main house is the user's responsibility.
Staff Assistance
Peterloon staff is on-site for all events, and we are happy to provide informal tours during your event.
Pricing Information:
Wedding Reception Pricing (maximum of 115 guests):

Outdoor Ceremony/Indoor Reception – $7,500
Ceremony Only (includes cocktails for one hour) – $4,000

Bar Packages: Please contact us for current bar package pricing
Service Charge: There will be a 15% service charge on the food portion of your catering invoice
Changing Suite: Peterloon offers a dressing room starting at 9:00am on the day of your wedding
Please check back with us in January 2024 for outdoor tented events and guest counts over 115  
For all event inquiries, please contact:
Bridget Hooper, Executive Director
bhooper.peterloon@gmail.com
513-371-1886